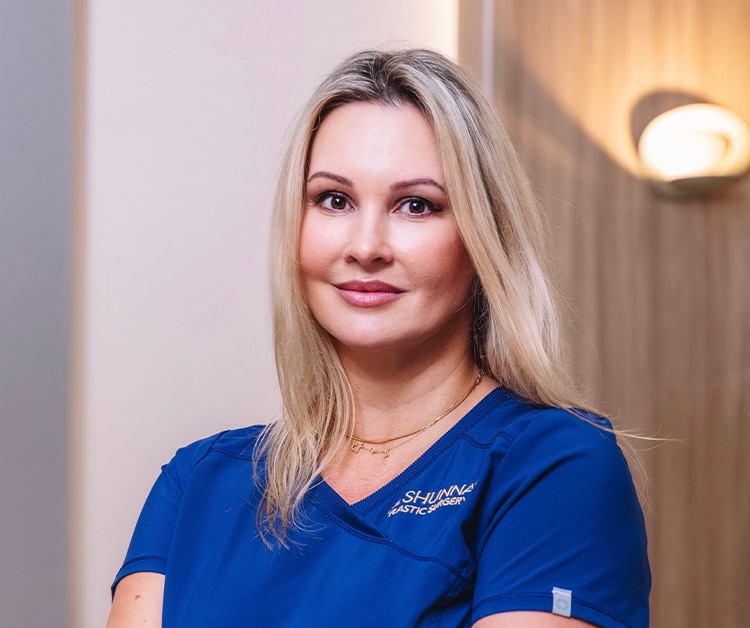 Dr. Claudia Alves Silva Machado
Specialist Plastic Surgeon
Post Graduate degree in Plastic Surgery and Reconstructive Microsurgery, Plastic Surgery Residency Program – Santa Casa de Porto Alegre, Brazil
Doctor of Medicine – Universidade Federal de Santa Catarina, Brazil
Member, Brazilian Society of Plastic Surgeons
Member, Brazilian College of Surgeons
Member, Brazilian Society of Burns
Member, Emirates Plastic Surgery Society (EPSS)
Member, Emirates Medical Association (EMA)
Member, American Society of Plastic Surgeons
Dr. Claudia Machado is a Brazilian Board Certified Plastic Surgeon with extensive experience in video endoscopic techniques, minimally invasive aesthetic facial surgery, tummy tuck, breast surgery, body sculpture, fat transfer and minimally invasive cosmetic procedures such as Botox, Dermal Fillers, PRP, CO2 therapy and others.
Dr. Claudia Machado received her medical Degree from the Federal University of Santa Catarina State, Brazil. Having received top honors she completed her General Surgery training at University Hospital in Santa Catarina State, Brazil. In 2000, she completed her training in Plastic Surgery and Reconstructive Microsurgery from Irmandale da Santa Casa de Misericordia de Porto Alegre, Brazil.
Dr. Machado has gained extensive experience by practicing as a Plastic Surgeon at various prestigious medical institutions in Brazil, Saudi Arabia and the U.A.E. She has published and co-published numerous articles in medical publications and journals including 'Annual of the III Catarinense Seminar of Scientific Iniciation Florainopolis – SC Brazil' , 'Journal Arquivos Catarinenses de Medicina' and 'Journal: Revista do Colégio Brasileiro de Cirurgiões'.
Dr. Claudia Machado has more than 20 years of experience in Aesthetic and Reconstructive Plastic Surgery. Her practice has grown through her extensive expertise and experience in cutting edge technologies and procedures such as video endoscopic plastic surgeries (incl. transaxillary subfascial breast augmentation and endoscopic face lifts). Dr. Machado speaks English, Portuguese and Spanish.